12 décembre 2010
Spectacles Fin D'année 2010 / Shows for Year End 2010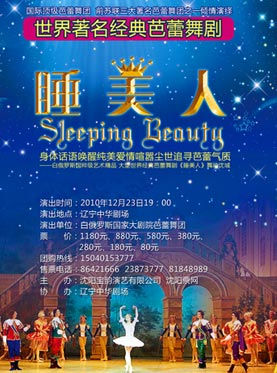 Bientôt Noël! Bientôt 2011!
Pour les fête, même en restant à Shenyang, on ne s'ennuie pas. Quelques spectacles pour les petits et les grands.
Le lac des cygnes
19 Dec. 19:00 (Le Royal Ballet Russie, prix inconnu)
Trois petits cochons
20, 21 Dec. 19:00 (80/120/160/200/260RMB)
Petit chaperon rouge
22, 23, 24 Dec. 19:00 (80/120/160/200/260RMB)
Concert de Musique Classique
27, 28 Dec. 19:30 (Beijing Orchestre symphonique, de 220 à 880 RMB)
Liao Ning Zhong Hua Theatre
La belle au bois dormant
23 Dec. 19:00 (Ballet Russe, prix 80-1180RMB)
Christmas is coming! 2011 is coming!
To celebrate all holidays, Shenyang's show is going on, for parents and kids.
Liao Ning Grand Theatre
Swane lake
19 Dec. 19:00 (Russia Royal Ballet, price unknown)
The three little pigs
20, 21 Dec. 19:00 (80/120/160/200/260RMB)
Little red riding hood
22, 23, 24 Dec. 19:00 (80/120/160/200/260RMB)
Classic music Concert
27, 28 Dec. 19:30 (Beijing symphony orchestra, price unknown)
Liao Ning Zhong Hua Theatre
Sleeping Beauty
23 Dec. 19:00 (Russia Ballet, price 80-1180RMB)
---
Liao Ning Grand Theatre 辽宁大剧院(liao ning da ju yuan):
沈阳市市府大路363号
No 363, Shi Fu Avenue, Shenhe District
Tel. 024-22735688
Liao Ning Zhong Hua Theatre 辽宁中华剧场 (liao ning zhong hua ju chang):
辽宁省沈阳市和平区南京南街3号
No 3, Nanjing Nan Jie, Heping District
Tel. 024-23863680
---