07 juin 2015
Shenyang Must: Riverside Supermarkets
The Riverside Supermarket, inside the clubhouse at Riverside Garden, was the original import shop in Shenyang. Now it's sister store at New World Garden makes this chain one of the best places to find food and snack comfort in this big city. The NWG shop is a few doors down from another import shop too. These are cards to be kept and saved. Who knows what you might find?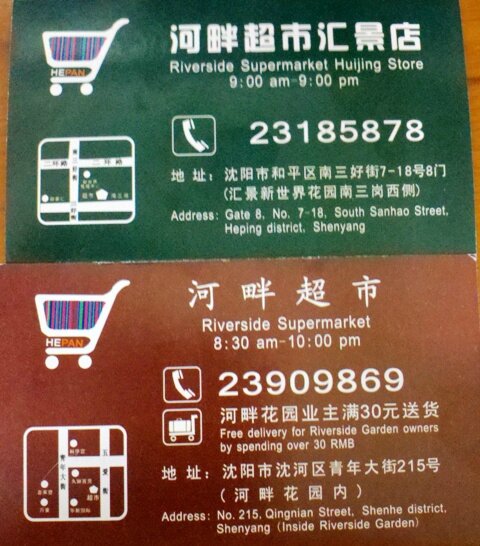 REMINDER: This blog's daily posts will end on June 15. After nearly five years, there will soon e no more volunteers to continue our blog. I want to thank Claire, Benedicte and so many others over the years who helped to make a difference! I also want to thank Grand Hyatt Shenyang, Maison de Cheryl, Benoit, Nicolas and Tim for their help with posts over the last two years that I have been managing the blog.
Now, there are many options for finding information about Shenyang. Join Wechat and follow Expat in Dongbei and Day Nite Shenyang. Join Shenyang Expats and Shenyang Friends on Facebook. Also, this blog's information will remain online, so feel free to use the SEARCHABLEE elements available on the home page.